What's New at B-DI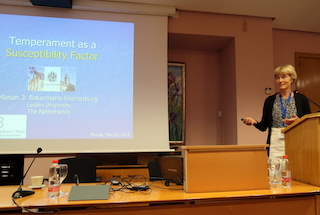 OTC22, Murcia, Spain
Click to enlarge
What's New at B-DI?
OTC2020 website is now updated with November dates. Posted May 16th, 2020.

Organizers for the 23rd Occasional Temperament Conference have updated their website, providing essential information for the new meeting dates, November 1-3, 2020 at Virginia Tech University in Blacksburg, VA.
The theme of the conference is "Temperament as the Foundation of Developmental Research and Practice." There will be two keynote speakers, Cynthia Stifter of Penn State U for the opening and Nancy Eisenberg of Arizona State for the closing. Organizers are Cynthia Smith and Martha Ann Bell of Virginia Tech.
OTC2020 website can be found at: http://www.cpe.vt.edu/otc2020/
New Blog by Alice Shannon, MFT. "Listening to Temperament." January 16th, 2019.

Alice is a long time advocate for the use of temperament concepts in her clinical practice in northern CA. She contributed the Teaming up to Tame a Preschooler article in the Clinical section of the B-DI website and has written several guest columns for the B-DI Newsletter.
Alice's stated purpose for her new site: "I want my blog, Listening to Temperament, to provide personal and professional access for understanding temperament, and for learning to tap into this underutilized resource as a wellspring for individualized insights and solutions for day to day well being and as well as greater life challenges."
Alice's blog can be found at: https://listeningtotemperament.com
22nd Occasional Temperament Conference: Murcia, Spain, May, 2018. Updated June 18, 2018.
Meeting Summary from Carmen Gonzalez-Salinas
The 22nd Occasional Temperament Conference was held at the University of Murcia, Spain, May 3-25, 2018. It was hosted by Jose Antonio Carranza and Carmen González-Salinas, from the University of Murcia, and Charo Rueda, from the University of Granada. In accordance with the selected theme, a multidisciplinary approach to the study of temperament, this meeting brought together a variety of research addressing temperament from different disciplines, including Neuroscience, Personality and Developmental Psychology, as well as studies of application in clinical and educational settings. In this occasion, two outstanding researchers were invited. Marian Bakermans-Kranenburg (Leiden University), keynote speaker, reviewed correlational and experimental evidence for the concept of differential susceptibility. Nancy Eisenberg organized a roundtable oriented to reflect about conceptual issues, and the contribution of temperament to the study of psychological development. Additional components of the panel were Marinus Izjendoorn (University of Leiden), Liliana Lengua (University of Washington), Marcel Zentner (University of Innsbruck), Reinhard Pekrun (University of Munich), and Carmen González-Salinas (University of Murcia).
The Jan Kristal Memorial Award was introduced by Sean McDevitt and given to Barbara Medoff-Cooper and Liliana Lengua to acknowledge their important contribution for the welfare of children. Masha Gartstein kindly summarized Liliana's professional and academic trajectory, and we could congratulate Liliana personally.
The preconference workshops addressed varied topics concerning research and practice on temperament. Jose A. Lopez-Lopez (Bristol Medical School; meta-analysis), Brian French (University of Washington; multilevel modeling), Sam Putnam (Bodowin College; test construction), Scott Frohn (University of Nebraska; test construction), Sean McDevitt (psychologist, Arizona; temperament and parenting in referred children), Irina Trofimova (McMaster University; temperament and mental disorders), and William Sulis (McMaster University; temperament and mental disorders), generously introduced us to their respective topics.
Thanks to the joint efforts of the conference organizers, scientific committee, preconference leaders, conference speakers, and poster presenters, we enjoyed an exciting scientific program. More international participation was encouraged this year, resulting in a record in the number of attendees (more than 100) that came from about 25 different countries. However, we missed the TC members who couldn't make this conference. We sent warm messages for Bill Carey and Mary Rothbart in a special postcard we printed for them.
The scientific agenda was complemented with joyful activities, such as the gala dinner at the Real Casino de Murcia, the guided city tour, and the day trip to Cartagena and the Roman Theater. The city of Murcia was quite animated during these days, as "The Three Cultures Festival" (Jewish, Muslim, and Christian) offered street music and dance.
Go here: here: http://www.um.es/otc2018 to download the OTC22 conference program and book of abstracts
The 20th Anniversary of the B-DI Newsletter for Parents! Posted August 6, 2017.

BDINews-Caring for the High Maintenance Child, By Kate Andersen is hosted by Yahoo Groups.
The free monthly newsletter for parents has been providing information about temperament and dealing with high maintenance children since 1996. With topics ranging from behavioral adjustment to communication, social skills and family problems, the topical issues have been read by thousands of parents looking for help with their spirited child. BDINews can be downloaded or printed without charge using links to html format and pdf format files at the top of the newsletter pages. These files may also be distributed by parents or professionals to anyone in need of the information.
BDINews is available online at: https://www.b-di.com/newsletter.html
Subscribe to BDINews at: BDInews-subscribe@yahoogroups.com
New Carey Temperament Scales Questionnaires. Posted December 14, 2016.
Questionnaire Update: New Format and Design.
William B. Carey, MD & Sean C. McDevitt, PhD, and Associates.
The questionnaires were updated in layout and format to make them easier to read and more convenient to score using CD and online software. The categories and norms remain the same as in the original versions.
For additional information go to the CTS Information Page.
Child Behavioral Assessment and Management in Primary Care, Second Edition. Posted June 22, 2016.
William B. Carey, MD & Sean C. McDevitt, PhD, (2016)
Based on the 2012 first edition, the second edition of CBAM offers new content, including an outline of areas of behavioral adjustment in the 0-4 age range and a more detailed review of the application of temperament counseling. A new chapter deals with the confusion of terminology that has crept into the behavioral health field in recent years.
Mobile and print versions are also available.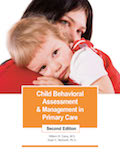 CBAM2 2016

Review of Child Behavior Assessment and Management. Posted May 21, 2015. March Issue, 2015
Journal of Developmental and Behavioral Pediatrics
The 2012 book by William B. Carey, MD and Sean C. McDevitt PhD was favorably reviewed in a recent issue of the Journal of Developmental & Behavioral Pediatrics. Roxanne Almas, MD from Brown University/Rhode calling it "clear and user-friendly, which makes it highly accessible to a busy pediatric primary care clinician." She stated: I found the discussion of the impact of temperamental variability on a child's behavioral profile helpful. This perspective can help parents understand their child's behavior and ultimately guide clinicians to appropriate clinical interventions.
See links below for copies of the review and the book.
Click here to get a PDF copy of the review.
Free PDF copy of the book is here.
The Temperament Consortium Membership Directory
Posted May 1, 2015.

Listing of Temperament Consortium Members
Voluntary Listing, Open to all TC Listserv Members
An idea expressed at the last OTC meeting in Nebraska was that the TC group might benefit from having a TC Directory where members could post their names, affiliations and a link to a webpage. The idea was that work they are doing with temperament, and possibly initiate collaboration/exchange that would be mutually beneficial. In addition, members of the public could see the disparate and interesting things that are being done in the temperament field. After some initial testing, the new TC Membership directory listing is now available. About 75 of the 360 listserv members have opted to list for the inital launch. Others, and new members, are eligible to join the Directory at any time.