What's New
CBAM: A New Book for Professionals.
Posted January 28, 2012.
Child Behavioral Assessment and Management: Theory & Practice.
William B. Carey, MD & Sean C. McDevitt, PhD, (2012)
This book, written by two clinicians who have worked for many years in primary care, suggests that health care professionals should view children's behavior as a spectrum where normal conflicts shade into problems and then disordered behavior, rather than making a categorical judgment about whether symptoms being presented by the caregiver are severe enough to diagnose and treat as an abnormal condition.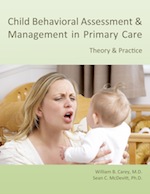 CBAM2 2012

OTC- 2010- REPORT by William B. Carey, MD -October, 16, 2010
Note: Reprinted from a post on the TC Listserv
Successful meeting- Those who were not able to attend the 18th Occasional Temperament Conference a week ago will be glad to know that it was a great success. Much credit goes to our host, Sam Putnam and his group at Bowdoin College in Brunswick, Maine. It was in some ways a transitional year, which he managed masterfully. (Earlier Bowdoin graduates such as Hawthorne, Longfellow, and Ambassador George Mitchell would be proud.)
Attendance was about 80, larger than the usual 50 or so, bigger but not too big. The usual friendly atmosphere prevailed and there was sufficient time to discuss matters formally and informally. Participants were the usual mixture of academic and clinical practitioner researchers, coming from all over the USA, several countries in Europe, and elsewhere. The program offered various aspects of temperament research. Theoretical investigations covered environmental effects on, and interactions of temperament with, family, school, and culture and physical ones like intrauterine cocaine exposure. Discussion of clinical applications included problem solving in pediatrics, nursing, clinical psychology and education. Other discussions focused on "What is temperament now" and temperament-cognitive links. The 24 posters offered further views.
A novelty this year was three simultaneous preconference workshops on person-centered analysis, clinical applications, and cross-cultural data. Previously we have avoided splitting up the whole group in any way in order to avoid creating factions. I believe, however, that this year's experience demonstrated that such special interest sessions are a valuable addition to consider repeating next time. Another innovation was the initiation of the Kristal award. This was named for Jan Kristal, who hosted the previous OTC meeting in 2008 in San Rafael, CA, but who died of cancer shortly after. The intention was to recognize at each OTC meeting a person who like Jan has made significant contributions to the clinical applications of temperament research, which is much in need of encouragement. The ad hoc committee (who excluded themselves from consideration) decided on three recipients for this year in order to catch up after 12 years with no such recognition. Those honored: Barbara Keogh, Jim Cameron, and Sean McDevitt. We expect this to become a regular part of the OTC.
Plans for the future-After each OTC there is always a scramble to decide where the next one should be held. We make it up as we go along. For the present there seems to be a consensus for keeping the meetings in the USA and resisting the allure of holding them in Europe. There have been several independent temperament meetings over there (London, Como, Leiden, etc.) but no recurring series like ours. Many participants are concerned that we would lose the involvement of our younger researchers who are less able to afford the expenses of transatlantic travel. Two possible prospects for 2012 are Salt Lake City and Seattle. We await further details of these and other potential proposals.
Thanks again, Sam.
Best wishes,
Bill
The schedule of meetings and presentations at OTC 2010 is here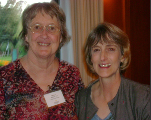 Mary Rothbart and Jan Kristal at OTC 2008
10/18/08: The 17th Occasional Temperament Conference
OTC 2008 was held October 17-18, 2008 in the San Francisco Bay area. The meetings were organized by Jan Kristal at Dominican University in San Rafael. This event marked the 30th year since the first occasional temperament conference, held in Lund, Sweden. The conference theme was: Research and Clinical Applications across the Lifespan.
The meeting was attended by 50+ clinicians, researchers and students, with attendees from all around the US and Europe. Notable temperament researchers such as Mary Rothbart, Roy Martin, Berit Hegekull, Ivan Mervielde, Sara Harkness, Charles Super, James Cameron, Diana Guerin, Sandee McClowry and others were in attendance as were clincians such as William Carey, Elaine Aron, Sean McDevitt, Jan Kristal, Helen Neville and Alice Shannon. Commentary was provided by Mary Rothbart, William Carey, Hedi Teglasi and Xing Zhou.
The schedule of presentations at the meetings can be found at the OTC website.
Click here to visit the OTC 2008 website.
8/29/07: Stella Chess Memorial Service in New York City
A memorial service for Dr. Chess was held on Wednesday, September 19th at the Farkas Auditorium at NYU Hospital. It was attended by over 100 colleagues, friends and family members from around the country.
The service included musical offerings by violinist Yeou-Cheng Ma, MD, who performed selections by J.S. Bach. Speakers included a number of current and former NYU colleagues of Dr. Chess: Drs. Ted Shapiro, Margaret Hertzig, H. Paul Gabriel and Richard Oberfield. Dr. William Carey of the University of Pennsylvania Medical School presented a tribute from a non psychiatric contemporary. Final comments, warm and poignant memories of being raised by two psychiatrists, were given by Stella's son, Kenneth Thomas. A luncheon followed.
Dr. Chess died in March of this year at the age of 93. Click here for a copy of Dr. Carey's tribute to Stella Chess.
10/18/2006: IPASSCODE.COM ONLINE BEHAVIORAL ASSESSMENT BY PROFESSIONALS!
B-DI announces the opening of ipasscode.com, a new online database of behavioral assessements designed for use by professionals in practice. The database is available for all licensed or credentialled behavioral health professionals. Professionals who work for qualified organizations and institutions (hospitals, clinics, school districts, etc.) may also use the system.
Professionals register to use the website and then are able to refer subjects (patients, clients or students, depending on the setting) to the site using a passcode referral. The passcode is a unique combination of letters and numbers that recognizes the subject, professional and test needed, and allows it to be completed online. The results are then transmitted directly to the referring professional for followup with the subject. ipasscode.com is completely secure and uses the same encryption used by banks and financial institutions to protect sensitive data.
The database can be used with self report, caregiver/parent rated and teacher rated instruments. Tests on the site include all of the current B-DI assessments, including the Carey Temperament Scales, Adult Temperament Questionnaire, BBAS, etc. as well as well known questionnaires by leading clinicians. These include the Beck Depression and Anxiety Scales, Brown ADD scales, Beck Youth Inventories, and Parenting Satisfaction Scale. Other instruments, including the Sensory Profile questionnaires and SASSI Adult and Adolescent, substance abuse screening inventories, are being prepared for the site. Additional test measures are being contracted.
To visit ipasscode.com click here for professional registration and login.