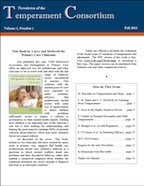 Temperament Newsletter (in Pdf)
In October 2009 the publication of the first Temperament Consortium Newsletter was initiated, co-edited by Roy Martin and Sam Putnam. The Newsletter contains information about activities and events relevant to research and practice in the field.
In 2012, the editorship of the newsletter was passed to Sara Harkness, whose Fall issue begins Volume 3 of the TC Newsletter.
As stated by the editors "This newsletter represents a first-step, along with continuous email traffic, in creating a community of producers, consumers, and application experts for temperament research. This vehicle allows TC members to communicate more frequently than once every two years (the approximate periodicity of the Occasional Temperament Conference) about the promise and frustrations of temperament research and applications."
Below are links to the newsletters, organized by date of release.
Click here to read Volume 4, Number 1 (Fall, 2016)
Click here to read Volume 3, Number 1 (Fall, 2012)
Click here to read Volume 2, Number 1 (Spring, 2011)
Click here to read Volume 1, Number 2 (Spring, 2010)
Click here to read Volume 1, Number 1 (Fall, 2009)
Members of the Temperament Consortium who participate in the TC listserv are notified of each newsletter and are able to join discussion of newsletter topics that occur in that forum.
Professionals and students who maintain an active interest in the temperament field are encouraged to join the listserv.
Click here to join the Temperament Consortium.