Occasional Temperament Conferences:
The 21st Occasional Temperament Conference. October 20-22, 2016 Talaris Conference Center, Seattle, WA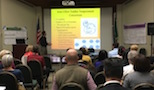 Keynote Address: Nathan Fox
Report of the OTC 21 Meetings from the Organizers. Posted December 14, 2016.
The theme of the 2016 Occasional Temperament Conference was "Temperament across the lifespan: From biology to intervention" with the goal of integrating basic biological, behavioral and mental health research with their translation to prevention and intervention. This meeting included several preconference events, offering clinical and advanced quantitative training, with a record number of conference attendees and community members taking advantage of these OTC opportunities. The conference consisted of 8 symposia and over 20 poster presentations, all informing the audience regarding current scientific inquiry into temperament and related fields.
The keynote address given my Nathan Fox was particularly illuminating, spanning the spectrum of studies addressing the development behavioral inhibition and highlighting the work of his prominent former students.
Jan Kristal award recipients broke new ground as well, with the work of Jack Bates and Kare S. Olafsen, the first academic and the first European colleagues recognized at this meeting.
In another innovative move, this meeting was co-hosted by Liliana Lengua (University of Washington) and Masha Gartstein (Washington State University), who shared responsibility for planning the meeting.
Seattle proved to be a worthy destination, providing many tourist attractions along with information shared at the OTC sessions. As is customary, the next location was discussed at the planning session at the end of the meeting, with potential future sites including US and European destinations - stay tuned!
Click here for Conference details.