Occasional Temperament Conferences:
22nd Occasional Temperament Conference: Murcia, Spain, May, 2018. Updated June 18, 2018.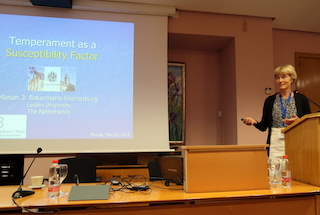 Meeting Summary from Carmen Gonzalez-Salinas
The 22nd Occasional Temperament Conference was held at the University of Murcia, Spain, May 3-25, 2018. It was hosted by Jose Antonio Carranza and Carmen Gonzalez-Salinas, from the University of Murcia, and Charo Rueda, from the University of Granada. In accordance with the selected theme, a multidisciplinary approach to the study of temperament, this meeting brought together a variety of research addressing temperament from different disciplines, including Neuroscience, Personality and Developmental Psychology, as well as studies of application in clinical and educational settings. In this occasion, two outstanding researchers were invited. Marian Bakermans-Kranenburg (Leiden University), keynote speaker, reviewed correlational and experimental evidence for the concept of differential susceptibility. Nancy Eisenberg organized a roundtable oriented to reflect about conceptual issues, and the contribution of temperament to the study of psychological development. Additional components of the panel were Marinus Izjendoorn (University of Leiden), Liliana Lengua (University of Washington), Marcel Zentner (University of Innsbruck), Reinhard Pekrun (University of Munich), and Carmen Gonzalez-Salinas (University of Murcia).
The Jan Kristal Memorial Award was introduced by Sean McDevitt and given to Barbara Medoff-Cooper and Liliana Lengua to acknowledge their important contribution for the welfare of children. Masha Gartstein kindly summarized Liliana's professional and academic trajectory, and we could congratulate Liliana personally.
The preconference workshops addressed varied topics concerning research and practice on temperament. Jose A. Lopez-Lopez (Bristol Medical School; meta-analysis), Brian French (University of Washington; multilevel modeling), Sam Putnam (Bodowin College; test construction), Scott Frohn (University of Nebraska; test construction), Sean McDevitt (psychologist, Arizona; temperament and parenting in referred children), Irina Trofimova (McMaster University; temperament and mental disorders), and William Sulis (McMaster University; temperament and mental disorders), generously introduced us to their respective topics.
Thanks to the joint efforts of the conference organizers, scientific committee, preconference leaders, conference speakers, and poster presenters, we enjoyed an exciting scientific program. More international participation was encouraged this year, resulting in a record in the number of attendees (more than 100) that came from about 25 different countries. However, we missed the TC members who couldn't make this conference. We sent warm messages for Bill Carey and Mary Rothbart in a special postcard we printed for them.
The scientific agenda was complemented with joyful activities, such as the gala dinner at the Real Casino de Murcia, the guided city tour, and the day trip to Cartagena and the Roman Theater. The city of Murcia was quite animated during these days, as "The Three Cultures Festival" (Jewish, Muslim, and Christian) offered street music and dance.
Go here: here: http://www.um.es/otc2018 to download the OTC22 conference program and book of abstracts
The 21st Occasional Temperament Conference. October 20-22, 2016 Talaris Conference Center, Seattle, WA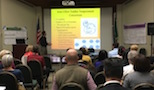 Keynote Address: Nathan Fox
Report of the OTC 21 Meetings from the Organizers. Posted December 14, 2016.
The theme of the 2016 Occasional Temperament Conference was "Temperament across the lifespan: From biology to intervention" with the goal of integrating basic biological, behavioral and mental health research with their translation to prevention and intervention. This meeting included several preconference events, offering clinical and advanced quantitative training, with a record number of conference attendees and community members taking advantage of these OTC opportunities. The conference consisted of 8 symposia and over 20 poster presentations, all informing the audience regarding current scientific inquiry into temperament and related fields.
The keynote address given my Nathan Fox was particularly illuminating, spanning the spectrum of studies addressing the development behavioral inhibition and highlighting the work of his prominent former students.
Jan Kristal award recipients broke new ground as well, with the work of Jack Bates and Kare S. Olafsen, the first academic and the first European colleagues recognized at this meeting.
In another innovative move, this meeting was co-hosted by Liliana Lengua (University of Washington) and Masha Gartstein (Washington State University), who shared responsibility for planning the meeting.
Seattle proved to be a worthy destination, providing many tourist attractions along with information shared at the OTC sessions. As is customary, the next location was discussed at the planning session at the end of the meeting, with potential future sites including US and European destinations - stay tuned!
Click here for Conference details.