The 18th Occasional Temperament Conference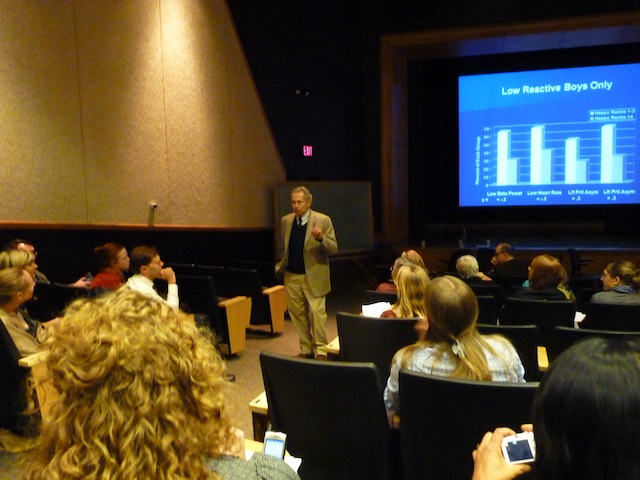 Professionals gather to share findings, ideas
2010 Bowdoin College, Brunswick, Maine
(This summary is based on a report filed by Bill Carey.) The meeting was hosted by Sam Putnam and his group at Bowdoin College in Brunswick, Maine. It was in some ways a transitional year, which he managed masterfully. (Earlier Bowdoin graduates such as Hawthorne, Longfellow, and Ambassador George Mitchell would be proud.)
Attendance was about 80, larger than the usual 50 or so, bigger but not too big. The usual friendly atmosphere prevailed and there was sufficient time to discuss matters formally and informally. Participants were the usual mixture of academic and clinical practitioner researchers, coming from all over the USA, several countries in Europe, and elsewhere.
The program offered various aspects of temperament research. Theoretical investigations covered environmental effects on, and interactions of temperament with, family, school, and culture and physical ones like intrauterine cocaine exposure. Discussion of clinical applications included problem solving in pediatrics, nursing, clinical psychology and education. Other discussions focused on "What is temperament now?" and temperament-cognitive links. The 24 posters offered further views.
A novelty this year was three simultaneous preconference workshops on person-centered analysis, clinical applications, and cross-cultural data. Previously we have avoided splitting up the whole group in any way in order to avoid creating factions. I believe, however, that this year's experience demonstrated that such special interest sessions are a valuable addition to consider repeating next time.
Another innovation was the initiation of the Kristal award. This was named for Jan Kristal, who hosted the previous OTC meeting in 2008 in San Rafael, CA, but who died of cancer shortly after. The intention was to recognize at each OTC meeting a person who like Jan has made significant contributions to the clinical applications of temperament research, which is much in need of encouragement. The ad hoc committee (who excluded themselves from consideration) decided on three recipients for this year in order to catch up after 12 years with no such recognition. Those honored: Barbara Keogh, Jim Cameron, and Sean McDevitt. We expect this to become a regular part of the OTC.